What a wonderful feeling is to be in your living room or bedroom, just enjoying the time for yourself, and you're surrounded by an incredible scent that makes you happy. Behind that specific type of scent, there is a tremendous amount of hours blending aromas so you can get a unique scent that makes you feel good and that identifies you. 
Identifying your favorite fragrance is difficult. It requires time and trials. But choosing your favorite diffuser is also a tough decision.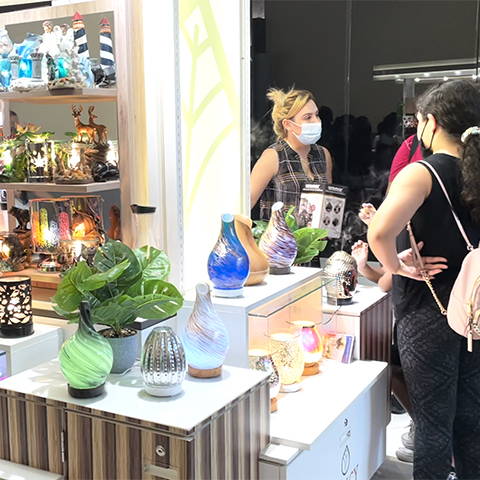 Gain: clean, fresh. Your house, your car, everything will feel immaculate! An aroma suited for lovers of strong fragrances. The soft lavanda touches will give you a calm sensation of home, clean home.
Apple cinnamon: fan of spicy fragrances love the apple cinnamon type, that has a rich, intense aroma that elevates the mood of a room in a matter of seconds
Lemon: the citric king, lemon oil fragrances work wonders in a diffuser which is capable of truly break down the acidity of this type of fragrance and leave the juicy, clean smell of lemon
Gardenia: the wonder flower! When you think of high-end perfumes, springy softness, and fresh days, you think of gardenias. Subtle but with character, gardenia brings personality to any place.
Vanilla: the classic. Child-like spirit, mellow sweetness, vanilla is the classic smell to bring joy in the home, office, car, or wherever you're using a diffuser. One thing's for sure; you will like floating on cotton candy.
Eucalyptus

: as a Gain type, eucalyptus is a fresh, clean smell. It immediately transports you to nature, it opens up your senses and makes you feel like you're treating your body with good medicine

Sandalwood

: Asia's treasure. For centuries sandalwood has been used as a medicinal tool, as a cleaner of bad energies, and as a seductive smell to enchant anyone

Pine

: nature lovers can have a piece of the outside world in their cars, homes, and offices. Pine is a refreshing aroma that gives an air of a Christmasy, outdoorsy feeling to any space.

Coconu

t: the Caribbean encapsulated in a fragrance. A coconut blend to refresh your spaces and make you feel like you're on the beach.

Pumpkin

: opulent smell not for the classic people. This makes your home feel like a squishy pumpkin muffing, bringing comfort and coziness.

Jasmin

: out in the fields, running wild and free. Jasmin offers that characteristic smell and angelic feeling to your surroundings.

Musk

: a potent smell to enchant your senses. Sensual and out of the ordinary, musk is the epitome of elegance.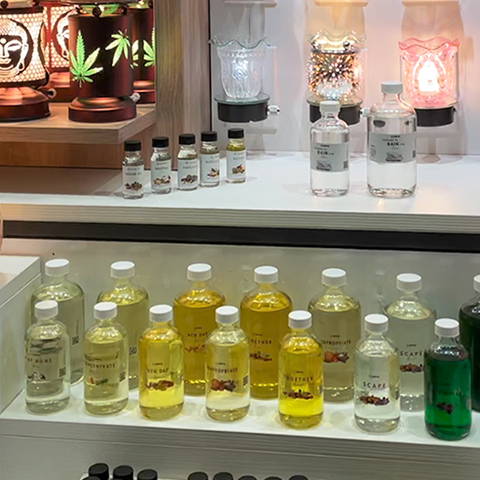 Aromatherapy with diffusers
Diffusers have become incredibly popular because they can bring aromatherapy to your home. A diffuser's capacity has to disperse the thick essential oil to make it a fine vapor that flows through air and spaces with more ease. Try our diffusers here.
The aroma that emits works directly over miniature sensors in our noses, which give information to our limbic system, a particular area in the brain that controls emotions. The sense of smell is an instrument for decision-making, it can makes us move, repel or attract.
This whole process happens in seconds and it involves very little rational behavior, and connect more with our instincts, and that because smell is 10.000 times more sensitive than other of our senses. That's why when we're walking through a perfumery and you smell the perfume your grandma used to wear, you instantly stop on the tracks feeling happiness, nostalgia, or warmth.
The limbic system is also responsible of understanding external stimuli to help us understand if the events surrounding us are stressful, normal, peaceful, etc. Therefore, when you're exposed to aromatherapy, the brain reacts with several psychological responses that may include pain relief or positive mood change.
So, if you're connecting your diffuser, applying your favorite scent, and feeling fabulous, then you're experiencing true changes in your body!
The diffuser love also comes from the fact that it rapidly alters the environment you're in:
It clears any complex food smells, like fish

The odors locked in the bathroom

The smells locked in the house

The smells locked in the car

Generates an atmosphere of tranquility

It gives the user control to regulate the environment in the space
These types of devices have become staples in households because they work amazingly and look even better. There are numerous styles, color shapes, and their sizes vary, but they're never too big, just a perfect fit to integrate into your spaces. These devices' designs are so beautiful that they could be mistaken for an ornament or interior decor.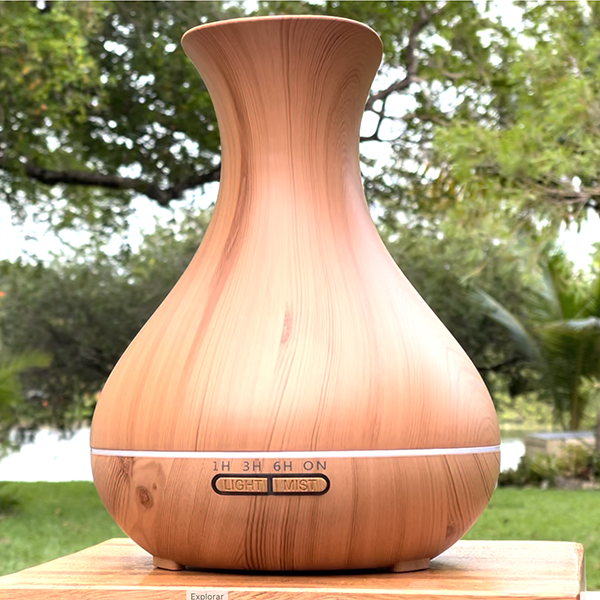 Choosing the perfect diffuser
Selecting the perfect fit for you depends on several things, but we give you some tips to pair your most relaxing fragrance with an incredible device:
Most expensive doesn't mean better

See if the diffuser is easy to clean. It's essential to keep your device free from the fungus that may appear
Be sure the diffuser has a timer to make sure you're getting the amount of fragrance you want

Be aware of the diffuser's cycles. Be aware that you can't use your diffuser for a whole day, with 30 minutes is more than enough, more than that could be harmful to the breathing tracts

Choose the one that fits the decor style of your home. Consider color, texture, shape, and size to pick one that you truly love and suits the room
Besides the technical matters, you need to choose the material the diffuser is made of. It can be plastic, ceramic, or glass. All of these materials come in different colors, with different patterns to fit your own style, but more importantly, to create a particular vibe of relaxation and enjoyment.